Milton, August '28th 18611
Dear Mother,
Thinking you would like to hear from your son Henry & the Boston Music Clerk on his vacation.  I take my pen to let you know that he is well and enjoying himself as much as possible.  As Luther wrote yesterday I don't know as I can write you anything new except that He has written to Mr. Forbes for a chance on his Ship which sails from New York to China Via California next month.  Ed Wardsworth2 is going as Captain &  Nat Lias as Mate.  George Wardsworth is also going.  Lute expects a chance with Mr. Todd in his Office he has seen him & is going there again tomorrow.  He is at work now at Chas Churchills going up there in the morning & doing the chores & then comes home & we have a Tip Top time.  we were down to Aunt Marthas last night & spent the evening.  They are all well and also Thomas whom they heard from last night just before we got there.  But after all I wish I was down to  Mansfield again where we had a splended time, going down to Plymouth & through more Adventures than I could tell in a week.  Luther was in the Store the other Day & don't you think Chas Davis had the Imprudence to tell him he thought he should have to send out for me to Day but I have not heard from him yet I don't want to either.  I guess I shall not come Down to York this year as I want to go round some here at home so give my love to all kiss the little ones for me & don't hurry home on our  Acct but stay as long as you can but I must close for it is time to make up a fire & Boil some Clams which we got all the way down to Squantum this morning So I will close with my best wishes for your health & a Good Bye.
From Your Affictionate Son
Geo Henry Moulton
17 years and 1 Day
At Home
Thursday Aug 28th 1861
---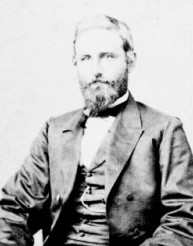 1 Henry Moulton's first letter was written on his 17th birthday, a year before his enlistment. None have mailing addresses but this one was probably sent to his mother while she was visiting family in York, Maine. Henry refers to himself in the third person and accurately points out that on the day of his 17th birthday he was, in fact, "17 years and 1 Day" old.
2 Ed Wardsworth is pictured at right.
---