Milton High School and the Central Fire Station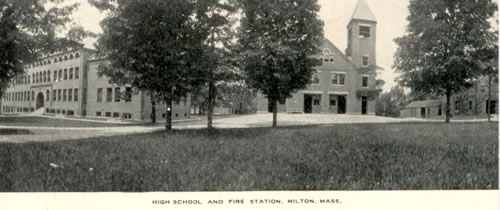 This High School (left side of picture) was originally designed by the noted Boston architectural firm Rotch and Tilden, and built in 1885. A huge addition that was designed by local architect Bradford O. Hamilton and built in 1895 encompassed the original school. In 1917, the school committee renamed it the Vose School, and it served as an elementary school until it's demolition in 1956.
The Central Fire Station was built on Engine Street in 1888 by J. H. Burt & Company, a well-known building concern in Mattapan located on Blue Hill Avenue near River Street. The partners were John H. Burt of Milton and his brother Gorge L. Burt of Mattapan, who were reputed to have one of the largest firms of its kind in Boston. The fire station is of red brick and granite lintels with a now-shortened asymmetrical bell tower. Burt & Company also built the Chemical Engine House and the Milton Lock Up (now the Milton Yacht Club).